Reed Exhibitions Japan Ltd., the show organiser, has announced that Manufacturing World Osaka 2013 was held from October 2 (Wed) - 4 (Fri), 2013 at INTEX Osaka, Japan, with most-ever 863 exhibitors and 39,972* visitors from around the world. The show made a great success as the Western Japan's largest trade fair in the manufacturing industry.

*The total number of visitors represents the sum of those visited Manufacturing World Osaka 2013 and Highly-functional Material World Osaka 2013. It does not include the number of seminer attendees, press registrants and exhibitors.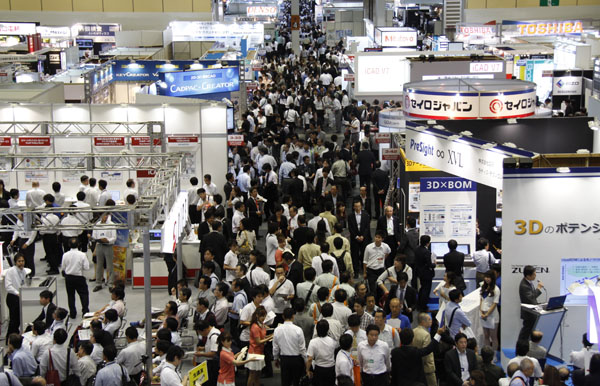 2013 Highlights

Most-ever 91 Overseas Exhibitors Brought in Latest International Trend

Recording the largest-ever number of overseas exhibitors, 91exhibitors from 9 countries outside Japan – China, Germany, Hong Kong, Korea, Mongolia, Taiwan, Thailand, Turkey and United States – tapped the Japanese market.

Korea, Taiwan and Thailand held their own national pavilions, which made meeting spots where Asia's most advanced technologies would create the latest international trend.

The growing globalization and the Japanese economy's recovery lead to lively exchanges between overseas exhibitors and Japanese visitors. This trend is estimated to continue in 2014.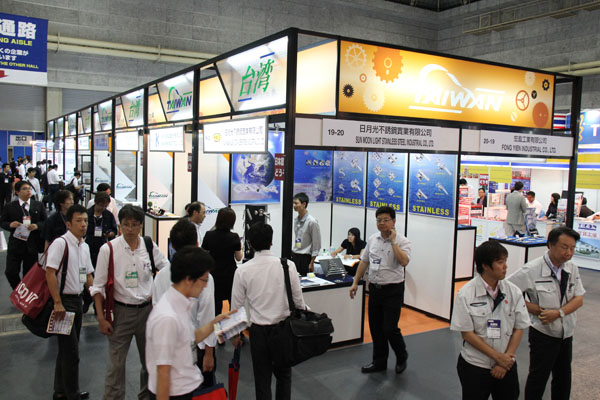 Taiwan Pavilion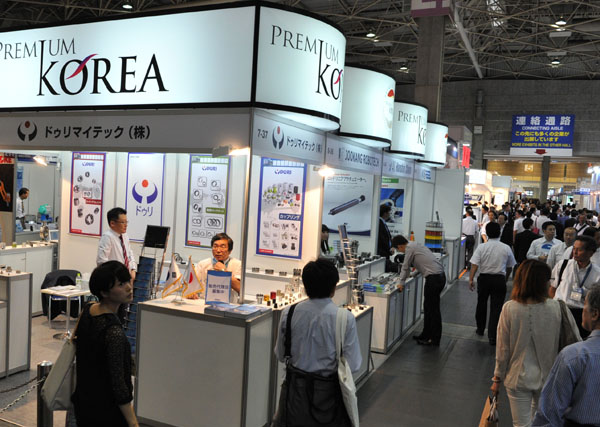 Korea Palvilion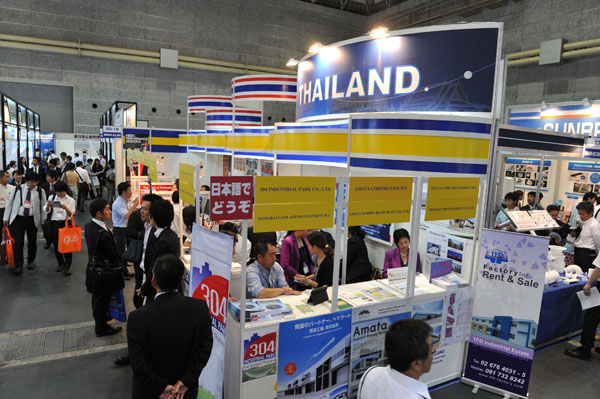 Thailand Palvilion




The most-ever cross-border discussions were carried out enthusiastically.



New Exhibitions Joined

This year, Highly-functional Material World Osaka 2013 and World Smart Energy Week OSAKA 2013 were concurrently held anew with Manufacturing World Osaka 2013. The two exhibitions attracted attendees from a wide range of industries, making the venue a hot interactive spot.

Highly-functional Material World Osaka 2013
1st Film Tech Osaka – Highly-functional Film Technology Expo
1st PLASTIC Osaka –Highly-functional Plastic Expo

World Smart Energy Week OSAKA 2013
PV EXPO OSAKA 2013 – 1st Int'l Photovoltaic Power Generation Expo
PV SYSTEM EXPO OSAKA 2013 – 1st Int'l Photovoltaic Power Generation System Expo
1st SMART COMMUNITY EXPO OSAKA

Contact Show Management Now!
Manufacturing World Japan 2014 and Manufacturing World Osaka 2014 will be held in Tokyo and Osaka at a larger scale than ever. Following the huge success of the previous show, many applications have already been rushing in to Show Management.

If you are interested in exhibiting, please contact Show Management immediately.

Manufacturing World Japan 2014
June 25 (Wed) – 27 (Fri), 2014
Manufacturing World Japan 2014
18th Mechanical Components & Materials Technology Expo (M-Tech)
http://www.mtech-tokyo.jp/en/
5th Medical Device Development & Manufacturing Expo (MEDIX)
http://www.medix-tokyo.jp/en/
25th Design Engineering & Manufacturing Solutions Expo (DMS)
http://www.dms-tokyo.jp/en/
22nd 3D & Virtual Reality Expo (IVR)
http://www.ivr.jp/en/
Manufacturing World Japan Show Management
■ Dates: June 25 (Wed)-27 (Fri), 2014
■ Venue: Tokyo Big Sight, Japan
■ TEL: +81-3-3349-8518
■ E-mail: mfg-japan@reedexpo.co.jp
■ URL: http://www.japan-mfg.jp/en/


Manufacturing World Osaka 2014
September 24 (Wed) – 26 (Fri), 2014
Manufacturing World Osaka 2014
17th Mechanical Components & Materials Technology Expo Osaka (M-Tech Osaka)
http://www.mtech-kansai.jp/en/
5th Medical Device Development & Manufacturing Expo Osaka (MEDIX Osaka)
http://www.medix-kansai.jp/en/
17th Design Engineering & Manufacturing Solutions Expo Osaka (DMS Osaka)
http://www.dms-kansai.jp/en/
Manufacturing World Osaka Show Management
■ Dates: Septmeber 24 (Wed)-26(Fri), 2014
■ Venue: INTEX Osaka, Japan
■ TEL: +81-3-3349-8518
■ E-mail: mfg-osaka@reedexpo.co.jp
■ URL: http://www.japan-mfg.jp/en/osaka/