Based on the data of UN Comtrade, we can see that in 2016, United States imported fasteners worth near 4.53 billion US dollars, down 9.05% versus 2015 while it exported more than 4 billion US dollars fasteners in 2016, up 6.16% versus 2015.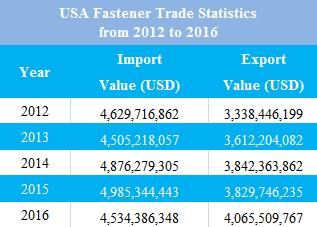 From 2012 to 2016, the top three countries (based on the import value of 2016) from which USA imports fasteners are Taiwan, China and Japan, far exceeding other countries. In 2016, USA imported near 1.42 billion US dollars fasteners from Taiwan, accounting for 31.34% of USA's total fastener imports, while China occupied 22.17%, and Japan 13.68%.

From 2012 to 2016, the top thress countries (based on the export value of 2016) are Mexico, Canada and Brazil. In 2016, USA exported about 1.32 billion US dollars fasteners, which occupied 32.38% of USA's total exported fasteners in 2016, while Canada 24.52% and Brazil 7.36%.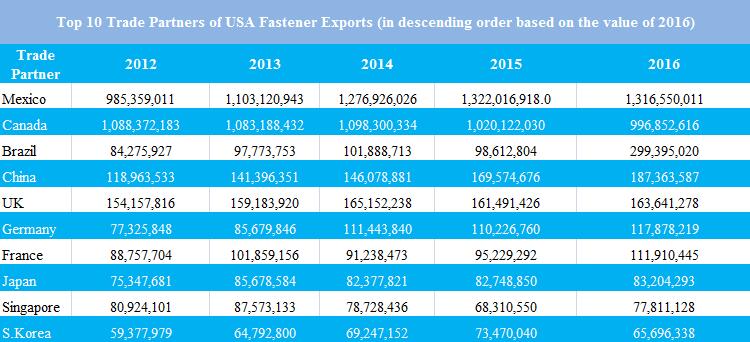 As we can see, USA has a great demand for fasteners since it's the biggest economy in the world. How can we know more about the market and is US market worth investing and developing?
Here is the answer.
Chinafastener.com is organizing a business group to investigate US market from Oct. 16 to 24th. We will visit National Industrial Fastener & Mill Supply Expo, Fast-Rite, ND Industries, Magni, General Motors/Ford Motors...
Welcome to join us: 86-20-8227 0680
Email: service@chinafastener.com
Web: http://zt.luosi.com/ExpoTeam/usa-detial.aspx