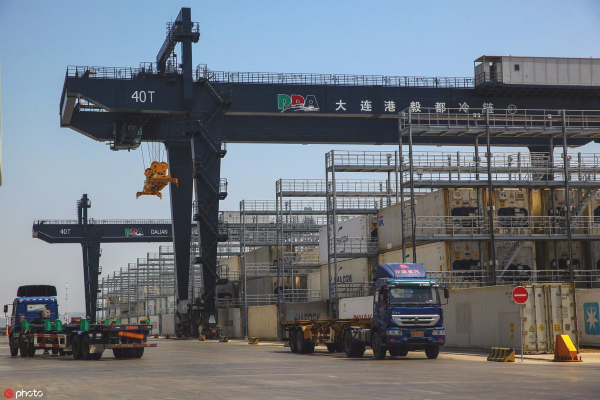 Northeast China's Liaoning province will enrich its business ties with economies related to the Belt and Road Initiative by undertaking more market-oriented reforms and enhancing regional connectivity to enhance its economic revitalization, the provincial governor said.
Liaoning is willing to work with countries in Northeast Asia to strengthen regional cooperation via policy dialogue and the implementation of priority projects in the region, said Tang Yijun, governor of Liaoning.
Meanwhile, Tang said the province will continue to deepen its cooperation with Central and Eastern European countries to create new growth momentum.
Diversified regional cooperation has not only led to economic prosperity and sustainable development, but has also significantly contributed to regional solidarity and stability, he said.
"Central and Eastern European countries have a lot of goods we need, such as high-quality machinery, agricultural products and food. We have many advantages in infrastructure construction, manufacturing and modern agriculture," said Tang, noting that both sides' imports are complementary.
Liaoning saw its foreign trade with countries and regions involved in the BRI jump 11.5 percent year-on-year in the first half of this year, data from Liaoning's Provincial Commerce Department show.
The province also attracted $1.2 billion of foreign direct investment between January and June, up 3.6 percent on a year-on-year basis, while it gained 273.2 billion yuan ($38.19 billion) of investment from domestic investors, soaring 16.5 percent from same period a year earlier.
Zou Guofa, vice-president of Carrefour China, said since the provincial government has focused on developing the business environment, streamlining the working process and encouraging foreign investment in recent years, the French company is now running 19 stores across Liaoning and has also opened an online platform to reach more consumers.
Moreover, supported by the guidance and promotion of the government's new measures to boost the logistics sector, the Carrefour Logistics Distribution Center was successfully established in Shenyang and put into service, he said, adding that it provides coverage for all Carrefour stores in Northeast China, completing the resource integration of offline stores and online channels.
Horst Kersten Gaudlitz, general manager of Volkswagen FAW Engine (Dalian Co), said as one of the important engine production bases for Volkswagen AG in northern China, Liaoning's transportation network including civil aviation, railways and highways has provided great convenience for goods traffic and people-to-people exchange.
"Meanwhile, a large concentration of universities in Liaoning offers a strong talent pool for global business," he said.
Apart from building a cozy commercial environment, Liaoning Port Group opened three new routes from Dalian to Indonesia, Vietnam and Thailand, and the Republic of Korea in the first half of 2018, meaning Liaoning's foreign trade route network now covers more than 300 ports in over 160 countries and regions.
It is connected to almost all major ports in countries participating in the BRI.
Supported by 200 berths and harbor facilities for metric 450,000 tons of crude oil, 400,000 tons of minerals, 200,000 tons of containers, as well as 70,000 tons of automobiles, the port operator said it aims to attract more international cargo with more services such as ship maintenance and shipping related finance lease services.