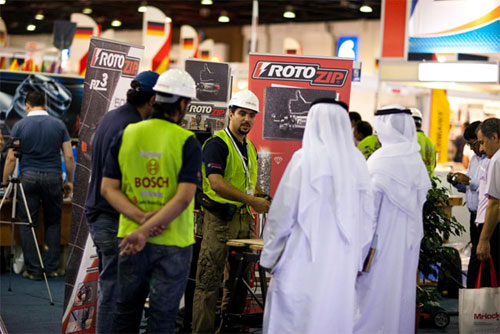 20% bigger than last year's event; A must attend exhibition for indus-try professionals; Tool that can save lives in serious accidents to be introduced in the region.
Now in its 11th edition, Hardware+Tools Middle East is the region's definitive trade fair for tools, hardware, materials and machinery. Ex-hibition organiser Epoc Messe Frankfurt expects to welcome over 350 exhibitors and over 6500 trade only visitors to this year's event, which is 20% bigger than in 2009.
Being held under the patronage of H.E. Mohammed Bin Abdul Aziz Al Shehi, Director General, UAE Ministry of Economy, Hardware+Tools is the ideal platform for finding potential customers or a local agent. As well as this, it provides the opportunity to enter the Middle East market which has traditionally been seen as one of the more difficult markets to penetrate independently. The trade show bridges that di-vide and brings key business executives together under one roof.
This year a live demo area has been introduced to the event, giving exhibitors a platform for showcasing their products or services in a more interactive environment. The key exhibitors that will be partici-pating in the live demo area are: BOSCH, MAKITA, IRWIN TOOLS and FUJI-KOSOKU.
A highlight of the demo area will be the car cutting demonstrations. Every minute saved using the car cutting tool significantly enhances the chances of survival of a car crash victim. With this in mind Irwin tools, in collaboration with Mansur Brothers, has designed an engag-ing competition whereby spectators can guess the exact time it would take to cut a car in half with great prizes to be won.
Another highlight of the demo area will be the cutting of steel pipes, iron round bars and flat bars with Kosoku's brand band saw HRB1140. Visitors will also get the opportunity to test the products' effectiveness themselves which in turn will help in creating a more interactive envi-ronment on the show floor.
According to Ms Mehtap Kenar: "We are very excited about the dif-ferent showcases which will take place in our live demo area during the exhibition. It is bound to increase to the vibrant atmosphere of the event and will certainly attract interest from the 6500 or so trade visi-tors which we are expecting to attend."
She added: "Hardware+Tools Middle East attracts some of the re-gion's key industry players. It is a great place for networking with trade visitors, most of whom have buying power and have come to the event in order to source new products and services."
To be held from May 18 to 20 at the Dubai International Convention and Exhibition Centre, Hardware+Tools Middle East attracts discern-ing visitors from the construction and design industries. Visitors at-tend the show for various reasons. For many, they attend in order to find specific products or services as well as to keep up to date with new products and trends and for others their attendance is to allow for them to conduct research to support purchasing decisions, meet potential business partners and to get an overview of the market situation.
Other highlights at this year's exhibition include some product launches by key international companies. Kosoku Electric Company will launch their ECO F-1 Grinding Wheel for the application of steel, cast iron and stainless steel. The new grinding wheel is a durable eco friendly product.
Among the leading manufacturers displaying their wares at this year's event are Bosch, Makita, Lubero, Irwin Tools, Mundial, Izar, MPS, Matador, Amenabar, Abac, Agazzani, Dremel, Walcom, Atika, Skil, Brainbee, Ceccato, Rotozip, Chicago Pneumatic, Omega, Weida, Weilish, Edesso, Fellisatti, Guhring, Helvi, MiniMax, OMCN, RHODIUS, RodCraft, Sparky, VBW, Wilpu, Genius, CMT, KDS, Baum, Daiken, LG Harris, Deltana, Channellock, Force, Apelas, Rubicon, Kanzawa, Fuji, Leica, Orbis, Will, Roy's, Tramontina, ALFRA, Kosoku, Brother, Deltana,Genius, Kosoku, Baum, Daiken, Black&Decker, Hitachi, Starwin, Rivit, Mobil P, Forjasul and many more.
ENDS
Show Profile:

Hardware and Tools is the Middle East's only dedicated event for tools, hardware materi-als and machinery. Industry professionals involved in the supply of equipment to or the design, construction, build or specification of commercial or residential develop-ments understand the importance of staying updated with new products, services and technology in the field.
Hardware + Tools Middle East is the perfect platform to meet new contacts, discuss new trends and technological developments, keep up to date with industry knowledge and source new products and solutions.

Show website: www.hardwaretoolsme.com
Company profile:

Epoc Messe Frankfurt GmbH is a subsidiary of Messe Frankfurt. Messe Frankfurt is Ger-many's largest trade fair organiser, with 424 million euros in sales in 2009 and more than 1,400 employees worldwide. The Messe Frankfurt Group has a presence for its customers in more than 150 countries. In 2008, Messe Frankfurt organised more than 100 trade fairs, of which more than half took place outside Germany.

The successful portfolio of events of EPOC Messe Frankfurt GmbH in Dubai include: Intersec trade fair and conference, Materials Handling Middle East, Hardware+Tools Middle East, Garden+Landscaping Middle East, ISH kitchen+bath Middle East, Light Middle East, Beautyworld Middle East, Wellness & Spas Middle East, Automechanika Middle East, and now also Paperworld Middle East, Festivalworld Middle East and Playworld Middle East.

For more information, please visit our website at: www.uae.messefrankfurt.com

* Preliminary figures for 2009 financial year