CAS, Certificated Active Supplier.is competitive Chinese fastener supplier with good reputation and has gotten through strict auditing from www.chinafastener.com. The auditing standards of CAS is formulated based on the feedback of global professional fastener buyers, reflecting professional fastener buyers' purchasing habits and their sourcing criteria which include manufacturing facilities, product quality control, company size, dedicated export team, research and development capability, social and environmental responsibility, trustworthiness and reputation, as well as OEM/ODM experience.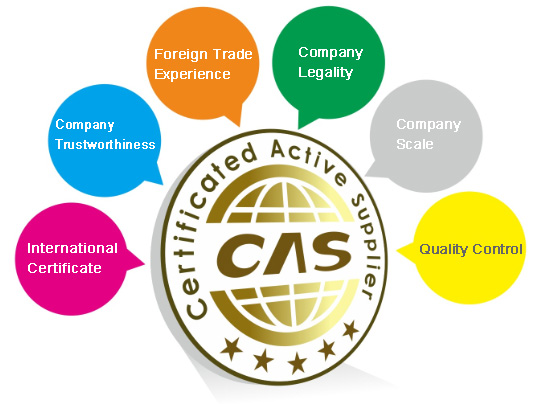 • Benefit for Buyer
As the top Chinese Fastener Supplier and getting through strict auditing from ChinaFastener.com, CAS community offers global fastener buyers the best way to reach the most trustworthy fastener manufacturers in Mainland China directly and quickly. At the same time, sourcing cost and business risk for overseas market are reduced. It is time-efficiency. Join CAS buyer community to build up long-term business relationship with your reliable future partners in China.
• Benefit for Manufacturer
Thanks to the professional and strict auditing, fastener manufacturers try their best to improve their theology, production process, staff skill, product quality and so on, aiming to qualify CAS benchmarks and meet the demand of oversea fastener buyers. It does enhance global buyers' confidence of CAS members in Chinafastener.com as well as Chinese fastener products. CAS members are distinguished among competitors by means of exportation qualification, company edges, skill training, etc.
• Some CAS member Check more CAS? Download Buyer's Guide